Eco Van Spares
Unit 17, Bakers Park
Cater Park
Bishopsworth
Bristol, BS13 7TT
Tel: 0117 9781 919
Fax: 0117 9781 921
email:
ecovans@live.co.uk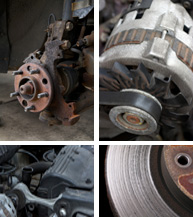 List of used van spares:

Engines
Injection Pumps
Lift Pumps
Turbos
Bottom End
Heads
Flywheels
Gear Boxes
Axles
Hubs
Wishbones
Drive Shafts
Steering Racks: Manual & Power
Steering Boxes: Manual & Power
Differentials
Prop Springs
Wheels
Bumpers
Wings
Bonnets
Lights
Doors
Head Linings
Drivers Seats
Double Seats
Triple Seats
Master Cylinder & Servos
Fuel Tanks
Alternators
Starter Motors
Power Steering Pumps
Vacuum Pumps
Front End Structures (cut)
Rear End (cut) and Side Sectors (cut)
Tyres – we have a large selection of Car and Van Tyres available in all sizes. 13 to 17 inch.
Windows ⁄ Glass – we have a large selection of side, quarter, rear glass windows in many different sizes to fit most vehicles both opening and non–opening.
We also have a selection of Glass Frails, Roof Racks, Tipper Bodies, Flat Beds, Drop Side Bodies and Lutons and Boxes.
If we have the vehicle in stock any part can be removed for your convenience.
Call us now on 0117 9781 919 or click here to email us
You can order your van spares using any of the following credit cards


If you wish to pay for vehicle spares through Paypal account please include your email address when contacting us. We will then send you a message through Paypal requesting the cost of your items.